Agriculture
Chad Cunningham
Meet our very first Faces of Agriculture Feature - Chad Cunningham! (Photos taken by Kim Goldsmith of Putnam Texas)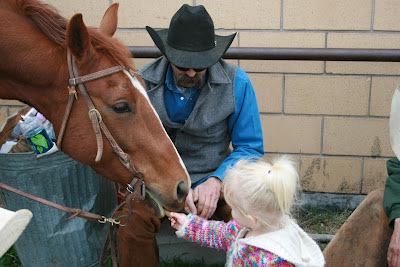 Chad, Tom & Hannah
Meet Chad Cunningham a real Texas cowboy and cattle producer. He is the owner and operator of a cow/calf and yearling operation. The ranch is a family business. Chad and his son Kyle with one other cowboy Joe run the ranch while his daughter keeps the books. His wife Kim has the chore of keeping all the cowboy's fed (which is no small task!).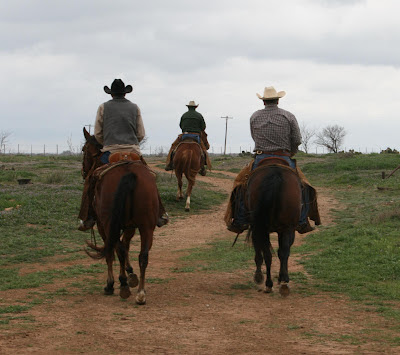 Heading out for a day of work.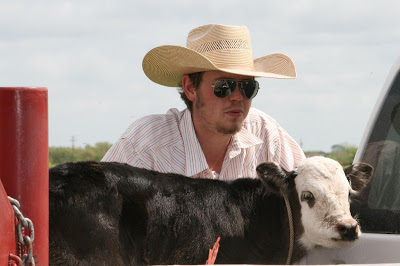 Chad's son Kyle.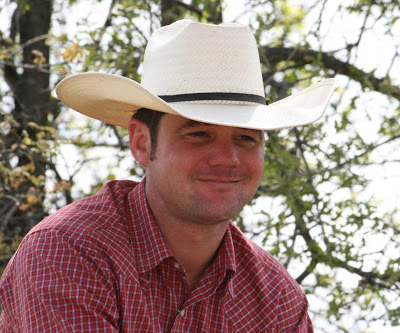 Ranch cowboy, Joe.
Together this family lives and works on the land to get your food from pasture to plate. Chad's main business is running yearlings. They buy 450 - 650 pound calves, and let them grow until they weigh 750 - 850 pounds, then send them to the feedlot to finish.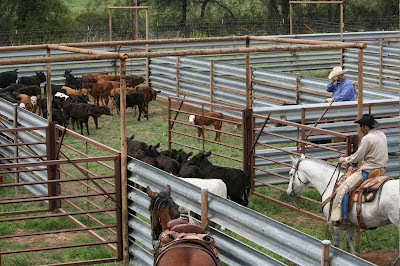 Chad sorting calves.
Chad does very little "farming". He says, "We are all a lot better horseback than we are in a tractor seat. The yearlings work good for our part of the country. When it is dry, we don't buy as many, when we get some rain, we buy more cattle. Plus, you get to stay horseback a lot more with yearlings than you do mama cows."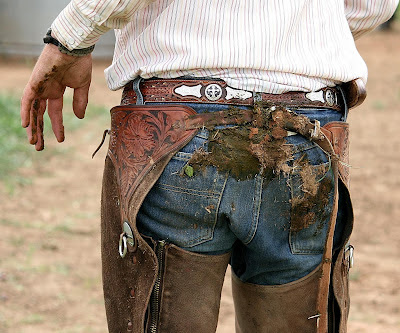 Agriculture is all about getting down and dirty!
His blog at Chad's Stuff showcases his cowboy heritage with photos of him and the guys working cattle, and riding horses. Chad also makes spurs and knives. He is keeping Western traditions alive and well.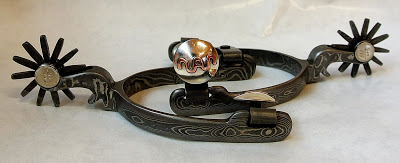 A set of Damascus spurs made by Chad.
Thanks Chad for our very first feature! Be sure to head over to his blog and learn more about the cowboy's life!
If you would like to be a featured farmer or know someone who should be leave a comment below - or check out our contact page. To learn more about the Faces of Agriculture project click here.
-
Liz And Adrian Brannan - Buckaroo Barbies
Today we feature two sisters from California. These girls work hard to promote western culture and ranching traditions. Please welcome Liz and Adrian of Buckaroo Barbie! First of all, thank you for having us here at Faces of Agriculture!! We?re the Brannan...
-
Jennifer And Travis - Nevada Ranching Family
Please welcome Jennifer and Travis to Faces of Agriculture. This Nevada ranch family is proud to be involved in agriculture and bring food to your table. (photo credits to Heidi Stevens.) Hello, my name is Jennifer. My husband Travis, our 2 boys and I...
-
Kricket And Gussie Keetch
Today we travel to Utah and meet Kricket and Gussie Keetch. FFA and 4-H members. These girls are learning ranch life and livestock handling first hand! We have been born and raised in Central Utah, both our parents came from agriculture backgrounds....
-
Jennifer And John
Meet Jennifer and John. These ranchers are from Southeastern New Mexico; raising kids and cattle. Hi! I?m Jennifer from Cow Camp Tales. Elizabeth asked my husband and I to share a little of our lives. My husband, John is a working cowboy, on a large...
-
Robyn Of The Ranch Wife Chronicles
Meet Robyn from The Ranch Wife Chronicles as she shares her story of how she and her husband came to be ranchers. Hello from the South Dakota Prairie! I am Robyn from The Ranch Wife Chronicles. My Husband, J, and I ranch with J?s parents...
Agriculture