Hi! I?m Jennifer from Cow Camp Tales. Elizabeth asked my husband and I to share a little of our lives.
My husband, John is a working cowboy, on a large cattle ranch in the Chiauhuan desert, of southeastern New Mexico. John, has lived in thisarea all his life. He was raised on the LE Ranch, which his dad ran for 30 years. He went to Odessa College on a saddle bronc scholarship, he stayed for two years and then went on to PRCA (Professional Rodeo Cowboy Association) rodeo full time. We met shortly thereafter. I'm a Texas transplant, my daddy moved to Texas 20 years ago to work on the Turkey Track Ranch. He didn't intend to stay, but he is still here. John came to work for the Turkey Track shortly after we started dating. He started at headquarters riding colts. After we got married we stayed at "HQ" another year. A camp finally came open and here weare, 4 years later.
The ranch we work for is owned by the Bogle family, it has been in the same family for going on 4 generations now. It?s a cow/calf operation, there is a little bit of everything - from Hereford and Angus to BeefMaster cattle. They also raise their own horses, and won the AQHA(American Quarter Horse Association) best remuda award several years ago. John's country or "camp" as we call it is 100 sections (1 section is 640 acres). The ranch itself is 640 sections, and there are 3 camps, including HQ that are around 100 sections or so. On a normal year with good rain, John takes care of around 500 mama cows. Unfortunately with the drought numbers have dropped.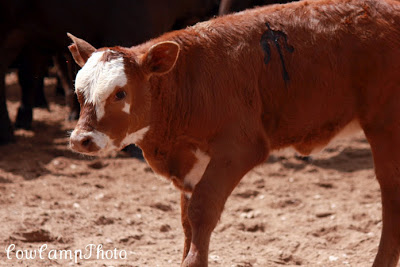 We both love agriculture, and the cowboy way of life. John loves cattle, his Dad brought him up with a love for cattle, horses and ranching. I was raised the same way. It?s a little different for us, as we don't own our own place. John is a hand on someone else's spread as was my dad and his dad. But there is still pride in taking care of God's creatures and doing the best job you can. There is also pride in carrying on a tradition; we come from a long line of cowboys. Both our granddaddies cowboyed all over Texas. Every day is something new, from breaking a colt, to pushing cows. Nothing is ever predictable. One day everything might go smooth and easy, the next, you could have the worst wreck of your life. Like the time John had roped a big bullcalf, yanked him in the trailer then when he went to load his hose, he decided he didn't want to share his trailer with a bovine. He jerked away from John and hightailed it out of the country. I then had to drive the pickup across the pasture, with John sitting on the hood, hollering at me to go faster, so he could get close enough to rope his wayward cayuse. You know things like that. :)
It?s a good life, we get to live out in the country. We have horses and cattle in our back yard! It?s the best way to raise kids. They learn responsibility and how to work on the ranch. They get to ride and have their own horses. We?re so blessed to be able to live the way we do! Its all we have ever known, or have ever wanted. Some day we do hope to have a place of our own, but until that time comes we will continue to do what we do.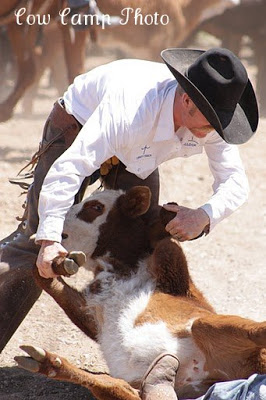 A typical day on the ranch involves checking water - John's camp is 100 sections so that is a lot of country to cover! In the winter hefeeds, in fact he fed year round last year due to the drought. He feeds cake - or range cubes. We received a little rain a few weeks ago so he was able to take his feeder off for a bit. Other duties include fencing, working on windmills, general ranch upkeep, and riding colts. During the spring is branding. This ranch is so big that gathering and branding everything makes for some pretty long days! The fall bringsweaning, and processing yearlings. The past few years the bosses have been keeping the yearlings. That means more long days processing and hauling them to the owners farm land close to town. Winter has John feeding when he has a chance, but mostly he is on wheat pasture roping and doctoring yearlings. From about December until March he is on wheat pasture.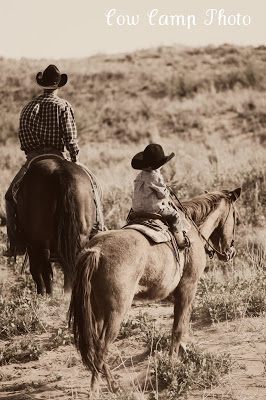 As for me, well, womenfolk don't cowboy on this outfit. Not on the big days with all the cowboys anyway. I help John anytime he needs help around here. He always tries to let me get horseback as much as possible. Oh, I whined about it enough growing up - I wanted to be out there working cattle too! But these cowboys are of the old fashion variety and it just isn't done. I cook when they work and I take pictures when I have the chance. I stay plenty busy raising our two ranch kids; we have a 3 year old boy and 1 year old girl. Tadpole, as we call our boy, is already rearing to go cowboy and talks constantly about riding bucking horses. It won?t be long until he?ll be heading out to work cows with his Daddy. Right now he?s still a little too short in the britches to go along on the big days. Fifty section pastures are a little much for a little cowboy.
One of the best things about being a cowboy, is the fact that it?s the same kind of work men did 100 years ago - aside from a few modern convinces such as pickups, and stock trailers. For the most part we do the same thing men did back in the day. That?s pretty cool.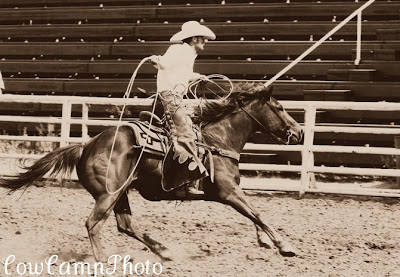 However, we are seeing this life being phased out more and more. So many things are coming against it, the drought being one. But thenthere are the environmentalists that are always on the lookout for the next endangered species. From the sand dune lizard in WestTexas/Easter NM, to the wolf in Northern NM. You may wonder how does that affect us? Ranchers are not allowed to shoot/trap wolves in Northern NM. Which means the population thrives resulting in lost baby calves. Lost calves mean lost money. If the sand dune lizard was placed on the list, ranchers wouldn?t be able to run cattle where the lizard is located. Many ranchers would lose a lot of range land.Thankfully, it didn?t get put on the list. However, the prairie chicken is endangered and there has been a strip of land through the ranch that they can?t run cattle on.
Then you have beef buyers from Japan of all places, buying our beef. Japan bought all our yearlings last year. Why are we not selling beef to our own country? We sell it to other countries, and import foreign beef. These are just a few of the issues rising up against ranching and farming. These issues have affected us directly.This way of life is all we know, and we love it dearly. It's so sad to see what is happening. Young men who grew up dreaming of living this life and wanting nothing else but to cowboy are finding it harder and harder to find ranch jobs. Then there are the older men who have known nothing but cowboying all their lives and can?t find jobs. It's so very sad.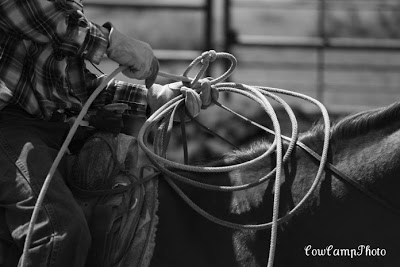 Yet... we?re grateful for each every day that we still get to do what we love, and that we get to raise our kids the way we are. The Lord has blessed us, and continues to bless us each day!
Thanks for reading a bit of our story, hope you enjoyed it!
God Bless!
John & Jennifer
Thanks John and Jennifer for the great feature! Jennifer does have a blog; however it is a private blog. They do enjoy new readers so drop her a line at Cow Camp Tales if you would like to keep up with life in a Cow Camp.
If you would like to be a featured farmer or know someone who should be, leave a comment below - or check out our contact page. To learn more about the Faces of Agriculture Project click here.
For our next feature, please welcome Tana Beckstead and her family as they share with us their unique agricultural story! Our agriculture story is made up of Beckstead Harvesting LLC, Mount Oxford Ranch and Oxford Mtn. Ranch LLC. We are Doug and...
Please welcome Kay and Cliff as they share with us what it's like to live and work on cattle in Wyoming! Howdy folks! I'm Kay, from A Ranch Mom. I live with my husband and our 4 kids on a ranch in SE Wyoming. The ranch is located along...
Please welcome Jennifer and Travis to Faces of Agriculture. This Nevada ranch family is proud to be involved in agriculture and bring food to your table. (photo credits to Heidi Stevens.) Hello, my name is Jennifer. My husband Travis, our 2 boys and I...
Today we travel to Utah and meet Kricket and Gussie Keetch. FFA and 4-H members. These girls are learning ranch life and livestock handling first hand! We have been born and raised in Central Utah, both our parents came from agriculture backgrounds....
Meet Rachel and Damon - a couple of Texas ranchers who have agreed to share their story with us today. Howdy from Texas, y'all! We were asked by Elizabeth, of Circle the Wagons, to write our agricultural story for the Faces of Agriculture blog. We...