Agriculture
Dairy Carrie
Today we meet Carrie! She and her husband are part of a dariy farm in the great state of Wisconsin. She feels that it is now part of the job description for farmers to get involved with the discussion about food!
Our farm is located in Jefferson County WI, which lies between Madison and Milwaukee.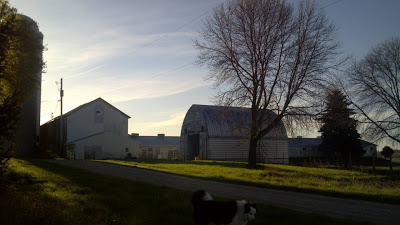 I am a Jill of all trades...currently we are dairy farming in conjunction with my husband's Uncle. The farm milks a little over 100 cows. The calves and dry cows are housed on our farm and the milk cows and older heifers are housed on the dairy across the road from our farm. We hope to be farming on our own in the near future. In addition to the farm I work as the Marketing Director for Waupun Equipment, a local farm implement dealer. I also work for Udder Comfort as a Dealer Representative and I sell dairy cattle genetics for Sierra Dessert Breeders and Dairy Bulls Online. So I guess I am fully immersed in everything dairy.
I was raised in Madison WI. I'm not the farmer's daughter or even the farmer's granddaughter. However, I have always had a deep love for animals and always wanted a farm. I purchased my first horse when I was 16 and he was the gateway drug to the world of agriculture. I never thought I wanted to be involved with dairy farming, instead I thought I would have my horses and some beef . Then I met and married the son of a dairy farmer and fell in love with dairy cows and the dairy industry. I can't imagine a life without my "girls" in it. The challenges and triumphs I experience each day are unlike any other job and I feel like I have found my calling on the dairy farm.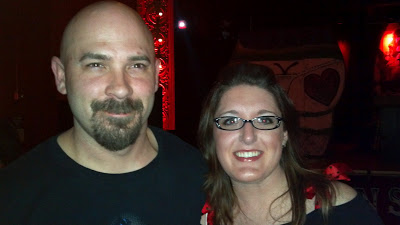 On the farm my main job is caring for our calves and dry cows. I think of it as the labor and delivery department as well as the nursery. Calves stay on our farm until they are about 5 months old so I am responsible for their feeding, health and well being during the most critical time of their lives. Even after seeing calves being born for years, it still excites me to see each calf come into this world and watching them grow.
I love the freedom that living in the country allows. Not having neighbors right on top of you, quiet nights, and star filled skies. But I think most of all I love the sense of community that comes with living in the country. In town you may not know your neighbors, but when you farm, you know them all and when someone needs help, a neighbor is there to lend a hand.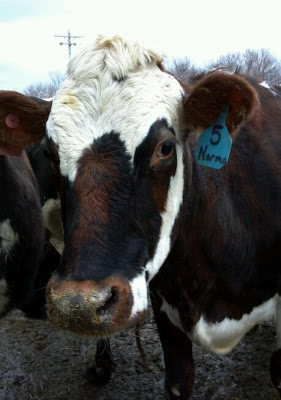 We asked Carrie what is the one thing you wish people understood about your farm?
I could write for days about this. There are thousands of misconceptions out there about agriculture and dairy farming. If I only had to choose one thing that I want people to realize it's that every decision that a dairy farmer makes for their farm is much more complicated than it seems. The choice to use antibiotics on a sick cow, how many cows to milk, what variety of seed corn to plant, the type of bedding the cows lay on, whether or not to graze your cows, when to sell a cow, are all much more involved decisions than the average person realizes. There are many discussions going on about where our food comes from. Farmers in general are late in joining these conversations. It's time for all of us dairy people to put ourselves and our industry out there and speak up. We can't expect that the growing opposition to our livelihoods will disappear if we just stick our heads in the sand. We need to be transparent in our actions, open and honest with those who have questions and most importantly we need to be realize that it is now part of our job as dairy producers to be a part of the discussion about food.
You can learn more about Carrie and their dairy on her blog Dairy Carrie and be sure to like her page on Facebook.

Thanks Carrie for teaching us more about the Dairy Industry! You can join the discussion too by becoming a feature! Want to learn more? Contact us today!
-
Different Path, Exciting Life
I didn't start out on a farm. My poor parents ended up with a little one after I brought home a couple runt pigs and lambs for FFA/4-H. I had livestock flowing thru my blood since the day I was born. I was suppose to be the 6th generation...
-
Mackinson Family Dairy Farm
Welcome to Mary Mackinson Faber as she shares with us about her family's dairy farm! Hello! My name is Mary (Mackinson) Faber and I am proud of my family?s dairy and grain farm located in Pontiac, Illinois. Where is Pontiac? Pontiac is in Central...
-
Stauffer Dairy
Please welcome Krista & Brandon on the blog today from Stauffer Dairy in Washington! Brandon & Krista have a small family farm where everyone helps out to make their dreams come true! Hello, we are Brandon & Krista Stauffer of Stauffer...
-
Abiqua Acres - A Family Dairy
Today we welcome Darleen of Abiqua Acres. This farming family is rich in history and tradition. Situated in the foothills of Oregon?s Cascade Mountain range, Abiqua Acres is on the edge of the diverse Willamette Valley. The valley truly is an...
-
Farmer Bright's Dairy
Today we welcome Ryan Bright, a.k.a. "Farmer Bright" as he shares with us his story of how he came to work full time on a dairy farm alongside his father and un When people ask me how long I've been farming I always have a hard time answering them....
Agriculture