Agriculture
Diane Reed Loew
Welcome Diane, a farm wife living and working on 1600 head dairy with her husband and sons in west Michigan.
Hello from west Michigan. The land of ever changing weather; I?ll get back to that in a minute.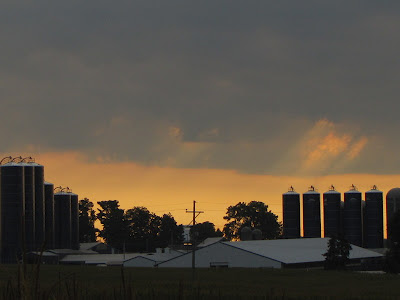 My name is Diane Reed Loew and I married my husband, who I affectionately call "Farmer" 40 years ago. I walked down the aisle of my church in the east side of the state, and into the barnyard on the west side. What a lifestyle change coming from the suburbs where dad was home at 3:00 PM during the week and home on weekends. Farmer would get home anytime from 8:00 PM to 10:00 PM and Sunday afternoon was his time off. It was challenging to say the least. But, definitely the best walk I?ve taken.
We own and operate a dairy farm. We have 1600 head and milk 700 three times a day in a double 12 herringbone parlor.
We grow as much feed as we can. This year we have 650 acres of really sad looking corn and around 300 acres of not so good alfalfa (it?s the weather thing this year).
I took one day, February 13, 2012, and figured out how many man hours it took to run our farm. The total was 141.5 man hours. It would be a lot more during planting and harvest. You can read about that day on my blog. I was surprised myself! I?m sure most farms would be similar.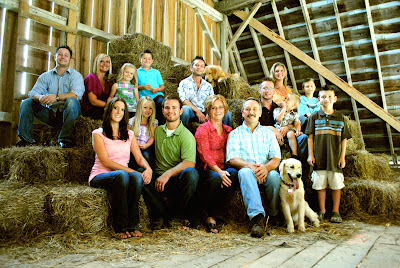 Our family includes four sons, three that farm with us, three daughters-in-law, 7.3 wigglies (grandchildren), 5 dogs, cats, chickens, a couple of pigs and enough flies for a town full of shoo-fly pies.
There is no other place than here that I would like to be. I am so blessed God plopped me in the middle of the hay and corn fields.
This farm has been in my husband?s family for several generations. He is the third generation and our sons are the fourth with the wigglies bringing up the fifth generation if they chose.
Working with your family is one of the best and worst things.
I can walk across the road at any time and see three of my sons and families, and the fourth lives three miles away. It can?t get any better than that. We have Sunday dinners together frequently and a lot of love, laughter and milk spewing through the noses across the table. A birthday can?t pass without everyone around the table celebrating. It is important to invest in family. When all else fails family is comfort.
At the same time there are three strongly opinionated young men who are trying to work together. Farmer is at the point where he desires to pass more responsibility on to the boys. Things don?t always flow smoothly. We are working on that.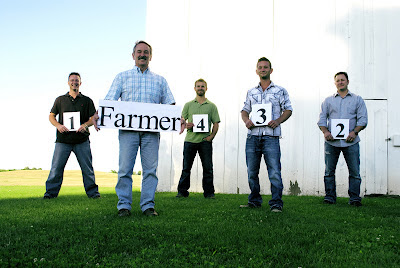 My ?jobs? on the farm have included raising calves, office work, tractor driving, milking, yard work and the ever glorious title of ?go-fer? ? go for this, go for that and etc. I have delegated most of the jobs and I am now down to office work, the go to ?go-fer? and the on call tractor driver.
Our farm has grown into a CAFO farm because of its size. CAFO stands for Concentrated Animal Feeding Operations. The term CAFO can leave a bad taste in some people?s mouths - usually those uneducated about the operation. They refer to CAFOs as factory farms that treats their animals badly and are dirty and poorly run.
We consider our farm a family run operation that supports eight other families that make a living with us.
Our BEBs (brown eyed bossies) come first. They have rubber mattresses with shavings to sleep on. They have pedicures on a regular basis. We have a certified chef (nutritionist) that feeds each group a special meal (TMR ? total mixed rations). They have ankle bracelets that are read each time they enter the parlor. The information given helps keep track of many things. Our herdsman is a vet, so thus they have a great health insurance plan. This is our first year doing embryo transfers and sexed semen. We work extremely hard to keep our girls happy.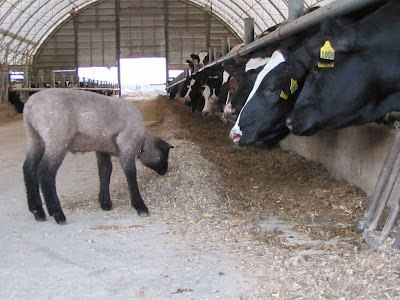 Our farm has been environmentally verified with Michigan Agricultural Environmental Assurance Program, which is kind of a big deal. There are many qualifications that have to be met. It took a lot of time and work to achieve. Each verification is different and dairy verification is one of the hardest. We try hard to be good stewards of what God gave us.
I created my blog, A Farm Wife, to shed an honest look at farming today. To encourage, educate and share. Besides, for some reason, as most writers do, I feel like I have something to say. Please insert eye rolling here.
I also have a weekly radio spot on Holland, MI local talk radio. It?s called Random Ramblings Of. Every Wednesday morning around 8:20ish on 1450 AM or on line at WHTC you can join in the ramblings. The program started when I was promoting my book 101 Ways to Celebrate the Ordinary. One and a half years later with a few sponsors the rambling continues. While I ramble on just about everything, I do try to include farming topics more frequently. As farmers we need to develop relationships with the non-farming community. I share the ups and downs of farming in hopes that they will give a thought to the farmers when they grab that gallon of milk, eat their food or slip into a cotton T-shirt. You can listen to past programs on the blog, A Farm Wife, under the tab so cleverly labeled as radio links.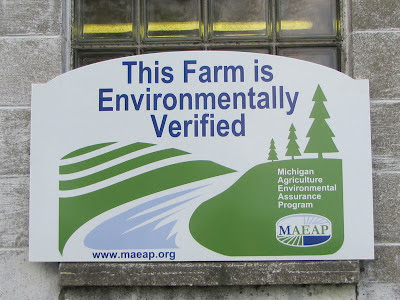 Now, back to the weather. There?s a saying in Michigan that most of you may have already heard. ?If you don?t like the weather, wait a bit, it will change.?
This year the weather hasn?t been farming friendly. We?ve been suffering like so many other areas with no rain. The second week of July, we were 10 days away from chopping what little corn we had in the fields to try to salvage at least some feed as silage.
We received an inch on a Friday. The following Friday we received another one half inch. It?s been enough to keep us going. But, was it enough? Not sure. Probably not.
Last night we had a glorious steady rain. I don?t know the totals and once again it helps, but I doubt the corn can catch up.
For us, it really doesn?t matter. We do what we can. We work hard and then give it to God. It?s all his anyway. We?re just tending the land and caring for the critters.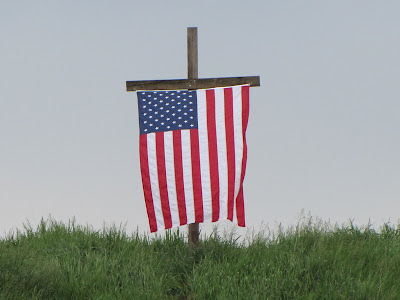 "So neither he who plants nor he who waters is anything, but only GOD, who makes things GROW" Corinthians 3:7
I would love to have you visit us in person if you are ever in the west Michigan area or grab a cup of coffee and stop by the blog. Be sure to leave a comment so we can chat.
Thanks for the fantastic feature Diane! Be sure to visit Diane's blog and Facebook page to learn more about her family farm. If you or someone you know should be featured on Faces of Agriculture - please contact us! No need to have a blog, we would just like to share your story!
-
Stauffer Dairy
Please welcome Krista & Brandon on the blog today from Stauffer Dairy in Washington! Brandon & Krista have a small family farm where everyone helps out to make their dreams come true! Hello, we are Brandon & Krista Stauffer of Stauffer...
-
First Generation Farmers
Today we welcome Shea Lowe. Her family are first generation farmers in Kentucky! With hard work they are making their dreams come true - being involved in agriculture! We are located in Murray, KY (Western KY, just west of the Land between the Lakes...
-
Morgan Kontz - A First Generation Farm Wife
Today we welcome Morgan Kontz of South Dakota. Morgan is the author of the blog "First Generation Farm Wife." She is a great agvocate for agriculture - working hard to represent agriculture and promote conversation about food and farming. Hi! My name...
-
Abiqua Acres - A Family Dairy
Today we welcome Darleen of Abiqua Acres. This farming family is rich in history and tradition. Situated in the foothills of Oregon?s Cascade Mountain range, Abiqua Acres is on the edge of the diverse Willamette Valley. The valley truly is an...
-
Tales From A Kansas Farm Mom
Today we welcome Nicole Small from Kansas! She is passionate about farming and teaching the next generation about where their food comes from! Hi my name is Nicole Small. My husband, Randy, and I farm together in Southeast Kansas. We are both the 5thgeneration...
Agriculture