Agriculture
Malaysian palm oil futures rose
Malaysian palm oil futures rose to a one-week high on Wednesday on higher export demand, although gains were curbed after Cyprus's rejection of a proposed bailout plan led to worries of a default. But palm prices were supported by Malaysian palm oil exports that rose 11 percent for the March 1-20 period to 927,665 tonnes, up from 835,612 tonnes a month ago, according to cargo surveyor Intertek Testing Services.
"If exports continue at this rate, we will see a figure of around 1.4-1.5 million tonnes for the full month," said a trader with a foreign commodities brokerage in Malaysia.
By the midday break, the benchmark June contract on the Bursa Malaysia Derivatives Exchange had gained 0.7 percent to 2,431 ringgit ($778) per tonne, below its intraday high at 2,438 ringgit, a level last seen a week ago on March 12. Total traded volume stood at 17,924 lots of 25 tonnes each, higher than the usual 12,500 lots.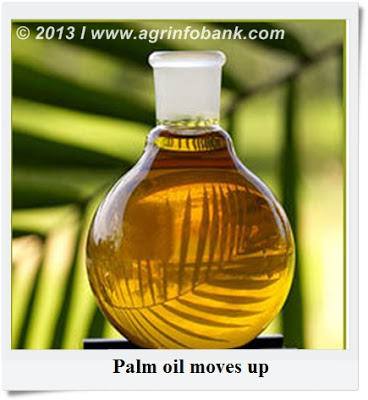 Technical analysis indicates palm oil remains neutral in a range of 2,383 to 2,436 ringgit per tonne, and only an escape will point a future direction, said Reuters market analyst Wang Tao. Refined palm olein exports almost doubled in the March 1-20 period, offsetting a decline in crude palm oil shipments and leading to higher overall exports, cargo surveyor data showed. Market participants are counting on rising exports and seasonally slower production to pull down Malaysia's inventory levels. Stocks reached a record 2.63 million tonnes in December but have been gradually easing since then, dropping to 2.44 million tonnes by the end of February. In other vegetable oil markets, US soyaoil for May delivery gained 0.4 percent in early Asian trade. The most-active September soyabean oil contract on the Dalian Commodities Exchange was almost flat.
Source:

-
Commodities : Rise In Exports Greater Than Imports
Saturday, July 20, 2013 By Abrar Hamza The total increase in exports of commodities during fiscal year (FY) 2012-13 outweighed that of imports as the exports went up by 3.0 percent while the imports rose just slightly by 0.08 percent, data of Pakistan...
-
Us Soyabean Futures Rose
US soyabean futures rose on Monday, snapping a streak of three straight negative sessions, on technical buying and worries that delays in the South American harvest will further slow delivery of supplies from Argentina and Brazil, traders said. The soyabean...
-
European Wheat Prices Mostly Lower
Western European wheat prices were mostly flat to lower on Monday as export-boosting weakness in the euro partly offset broad losses in commodities linked to a controversial bailout plan for euro-zone member Cyprus. Worries over the consequences of a...
-
China Eyes Five Percent Broken Rice From Pakistan, Vietnam
January 22, 2013 RECORDER REPORTChinese demand looks likely to act as a partial safety valve for an amply supplied rice market for a second year running, as the world''s top consumer of the grain takes advantage of global prices around 25-30...
-
India-wheat Production Profile
India produced 73.2 million tonnes of wheat in 1998-99, a 18 per cent increase in 1993-94 was 55 million tonnes. Production in 1998-99 after China, India's second largest world producer of wheat. But India still a regularly established itself as...
Agriculture