Agriculture
Leslie Brazel
Today we hear from Leslie Brazel and family from Kansas!
Hello from South Central Kansas! My name is Leslie Brazle and my blog is CowPies & MudPies. We live in Winfield, Kansas. We are nestled in the middle of wheat country and the grassland/cattle country. My husband Justin and I have been married nearly 18 years and we have two boys, ages 15 and 12.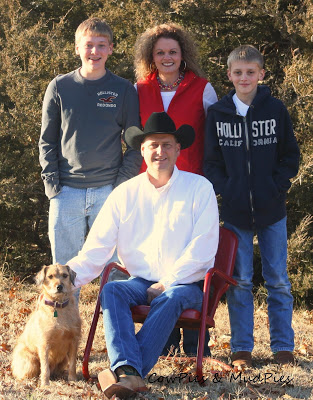 The Family
My husband and I both grew up in agriculture and are happy to be raising our boys in this lifestyle. I grew up about four miles off the Kansas/Oklahoma border. My folks have a farm and raise wheat, alfalfa, soybeans and they have about 50 cows. I LOVED the farm growing up and knew I wanted to continue in the agriculture field somehow when I grew up and moved away! My sister and I were active in FFA and always helping my dad around the farm.
My husband grew up about 40 miles east of my parents and raised wheat and cattle, but my father-in-law is also an auctioneer and worked at several cattle sales every week. It was a given that my husband would become an auctioneer as well. He began as a young boy and then went to auctioneer school in North Dakota at the age of 14. After graduating from Kansas State University, where he was on the Livestock Judging team, with a bachelor?s degree in Animal Science, he returned to Winfield to join his dad at Winfield Livestock Auction. My father-in-law, John Brazle has owned Winfield Livestock Auction for about 39 years. I recently joined the family business full time after working in the medical field for nearly 20 years.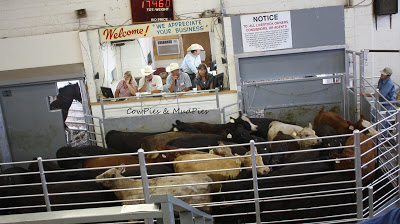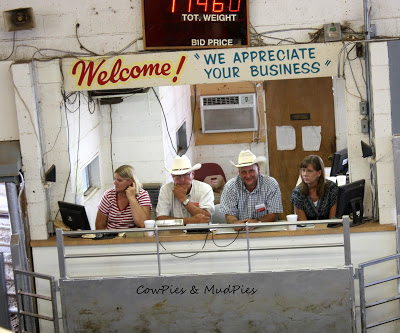 Left to right: clerk, father-in-law, my hubby, internet clerk.
He's smiling even though the market was DOWN!
We have a cattle auction every Wednesday at 11 am. Our sale can be viewed over the Internet through CattleUSA.com. It is amazing that we can not only watch the auction online but also sell cattle online. When we first started with Cattle USA I thought it was crazy and could never imagine buying cattle over the Internet, but amazingly, we do sell cattle on the Internet! We also have an Auction & Realty Company where we specialize in selling land, farm equipment, houses and household items.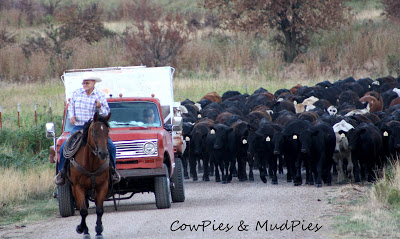 Bringing the gals into the pens to load
Along with our Livestock Auction (a.k.a. Sale Barn) we run our own cattle. We buy heifers weighing about 400 pounds in the fall and brand, vaccinate and start them on protein pellets so that we can turn them out on grass around April 15th. We feed prairie hay, protein pellets and keep mineral out for them. We rent the grass for 90 days and sell them about July 15th. We usually run about 600-650 head of heifers but this year is a little different due to the drought. We only turned out about 350 head this year. When we sell our cattle in July weighing about 750 pounds and they are sold at auction through our sale barn. The buyers then send them to a feedlot where they will be fed and finished out and eventually sold for beef consumption.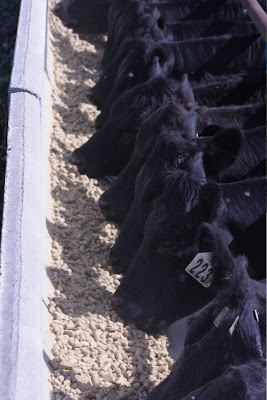 Before they go to grass they are getting about 5 pounds of protein pellets, per cow, per day.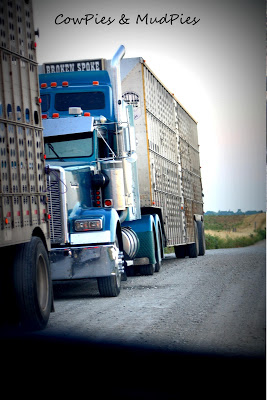 We only used 2 cattle pots this year, they each hauled two loads.
Each semi can haul around 50,000 pounds.
What we do is a demanding lifestyle. It can consume your days, nights and weekends. Between the business (sale barn) and our personal cattle, boys and just life in general there is not a lot of free time. There are years the cattle make money, then there are years like this one where the market has gone to pot. But we love what we do and I don?t see us ever changing. We are blessed to beyond measure and give thanks to God regardless! Please feel free to visit our auction website, Windfield Livestock Auction or CattleUSA.
Thank you to the Faces of Agriculture gals for helping educate our world on all the different aspects of agriculture and just HOW important it is! Milk and meat and bread do not just ?come from the store?!
Thank you Leslie for taking the time to share your families story! You can learn more about this proud Kansas family on their blog: CowPies & MudPies. If you would like to be a feature on Faces of Agriculture please contact us!
-
This Is Agriculture!
Like several others have mentioned here, I am the 3rd generation on this farm. My grandparents homesteaded here in 1903. They boarded a train on their wedding night and headed west to check out a piece of land that was available to homestead. All they...
-
Jennifer And Travis - Nevada Ranching Family
Please welcome Jennifer and Travis to Faces of Agriculture. This Nevada ranch family is proud to be involved in agriculture and bring food to your table. (photo credits to Heidi Stevens.) Hello, my name is Jennifer. My husband Travis, our 2 boys and I...
-
Tales From A Kansas Farm Mom
Today we welcome Nicole Small from Kansas! She is passionate about farming and teaching the next generation about where their food comes from! Hi my name is Nicole Small. My husband, Randy, and I farm together in Southeast Kansas. We are both the 5thgeneration...
-
Elizabeth And Wade
Greetings from the Midwest! This is the other half of ?Faces of Agriculture? and if you are reading this feature it means that we had a lull in responses to our blog! Tisk Tisk?So that means you need to be contacting us so we can feature YOU! My husband...
-
Rachel And Damon
Meet Rachel and Damon - a couple of Texas ranchers who have agreed to share their story with us today. Howdy from Texas, y'all! We were asked by Elizabeth, of Circle the Wagons, to write our agricultural story for the Faces of Agriculture blog. We...
Agriculture